Success Stories
Would you like to share your story with us? 
Click here
"My family can't thank you enough for introducing us to OxyNu Canine and giving "Dude" not just the best quality of life he has had in years but giving him life. We will be your customers for life."
-The Stowes
"I hope you develop a human formula so we can look forward to the same result as we close in on our retirement years ."
-Jane Katz
"Pookie has been on OxyNu for 5 months now and I plan to keep her on it the rest of her life." 
-Beth Landry
---
Customer Submitted Testimonials
Joint Health is a Success
We have 2 older pups (10 & 14) who have been experiencing some issues getting up and down as one would expect at their age. The 10 year old having it the worst, we bought a pouch for her to try while her brother was taking the Allergy Relief for his seasonal allergies (his biggest problem at current that we had to get under control which we have used before with fantastic results). She has been taking OxyNu for a month and she is no longer moaning and groaning when she is laying down or getting up! She's also running a little more at the park now! We really are quite impressed that we have actually been able to tell a difference in her that soon. We'll definitely need to have both of them on this to keep them happy and mobile as long as we can!
Heather Jaccuzzo
I am shocked at how this worked!
Not enough can be said about how wonderful this product is! Moose was a stray that refused to fight, and he came to me with mange over his whole body and severe skin issues. After years of a good diet and great lifestyle, he was in great shape, but I still couldn't control his allergies and his eyes always watered and he was missing hair around them. I saw OxyNu in the vet's office and thought I'd give it a try. And I'm so glad I did! His eyes are about perfect now, and thankfully his scars have also had hair grow back on them, his coat is SOO shiny, and his eyes rarely water anymore. Great product, from Moose and I, thank you SO much!!
Elena Branzaru
D-Rock's Allgeries
Very happy I found oxynu! My dog, d-rock's allergies were very bad and he always smelt like yeast. After only a couple weeks after starting him on oxynu, the smell went away and he seems to be feeling much better. I am so relieved and satisfied with my purchase.
-Cameron Wallace
Cameron Wallace
Rusty and Zac Love OxyNu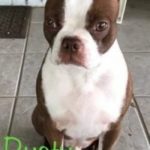 Our Boston Terrier, Rusty. had a continuous running nose that would last for months. I always had lots of tissues at hand to wipe his nose, it was a constant battle.
While at our local pet store, my hubby and I noticed your product for allergies, OxyNu.  After spending large amounts of money at our vet for visits and medications, we figured, "what's another $25.00," and decided to try the OxyNu. After approximately 2-3 weeks Rusty's nose stopped running. I was so happy with the results from giving Rusty OxyNu, I recommended that my sister try it on her dog, Zac.  Zac has skin allergies making him feel itchy and causing him to scratch excessively.  I'm happy to say that Zak is itch free after using OxyNu too! I would recommend OxyNu without hesitation to anyone who has a dog with allergies.

Debbie S.
My dog was going bald…
This was my dog a few weeks ago. His hair was just falling out in handfuls. I honestly thought he was going to go bald it was that bad.The vet only recommended to take baths and steroid pills. Then I came across you guys and his fur is growing back so nicely and its looking nice and full again. Thanks for having a natural product that works wonders!
Christy Niemietz
We are in Love with OxyNu!!!
My dog has very bad allergies since moving to New Orleans 7 years ago. She has been allergy tested and received allergy shots for a year. Additionally, she has been on numerous medications and almost constant antibiotics and steroids for several months. I've tried all manner of shampoos – medicated, homemade, organic, all natural. You name it, we've tried it. She even got acupuncture once a week for several months, but still her allergies made her miserable. So miserable, in fact, that she could almost never rest peacefully for any significant length of time.
She was forever itching and scratching and licking. It was awful!!! I found OxyNu and decided we had nothing to lose. I tried it for a month and my dog got significantly better; however, I thought maybe it was just the time of year so I didn't buy more OxyNu. What a mistake!!!! She was miserable again within a day or two. She hasn't missed a day of OxyNu since and it's been several months now. I sincerely hope OxyNu is around for the long haul….otherwise, I don't know what we'll do.
Cary Davis
Thank you from Chassis and Dixie
We have two Pomeranians, Chassis and Dixie. Chassis is 13 years old and Dixie came to us as a rescue, but we believe she is around 9 years old. Both of our girls have suffered with environmental allergies for many years. Dixie was constantly scratching herself on the coffee table. I have video but have been unable to upload it to this site. Chassis had chewed her back raw and to the point of bleeding. Multiple trips to the vet led to multiple rounds of steroids, which would help for a time and then the itching would return.
When I heard about OxyNu from a friend, I decided to give it a try as I did not want to keep the dogs on steroids for the rest of their lives. After the first month, I didn't really think it had made a difference, so I didn't re-order. Within two weeks they were both back to scratching madly, so I put them back on it, and we have not looked back. What a remarkable difference OxyNu has made for our girls in the past 4 months.
Amy Hurst
BANDIT'S COAT IS FULL & SHINY AGAIN
My 4 year old black lab, Bandit, started having diarrhea and his hair started falling out in clumps leaving bare spots due to allergies. After several months and 2 rounds of antibiotics I decided to try OxyNu. His coat has filled back in beautifully and is back to being shinny & healthy. He is a much happier dog thanks to OxyNu!
KEREN DAVIS
Harley's Transformation
OxyNu is me and Harley's new favorite product! Since Harley was about 6 months old she's suffered from really bad allergies. We've tried different food, and medicine several times and it would never go away. After only 1 week I saw a difference! It's now been a month and her redness, irritation, and hair loss has subsided and she is back to her old self again! OxyNu is the best $40 bucks I've ever spent!! Any dog with allergies, I recommend this!
Evangeline's CCL Recovery
I just wanted to say thanks! My dog was recovering well from her CCL surgery but her hair was not growing back.
After two weeks on OxyNu, her hair was growing back in, she had more energy, and was improving faster through her recovery. Obviously, all of those things would've happened with time, but I believe the OxyNu made a real difference for her.
I also noticed that she seemed less bothered by seasonal allergies even though my other dogs were having issues.
Sabrina Jacks
OxyNu provides comfortable life for retired Police K-9
I discovered OxyNu approximately 6 months ago and began to give it to my aging and retired police dog, Pico. Pico for some time had started to show the signs of his past rigorous life; such as trouble getting up and arthritis. Soon after giving Pico OxyNu, he began showing signs that he was feeling better. Pico did not have the same difficulty getting up and even began to prance around the yard again. I also noticed a positive change in Pico's coat. I attribute all the positive change in Pico to OxyNu.
Lonnie Senior
Lilly – our white Boxer – need I say more?
Lilly is our 3 year old boxer, who has very sensitive skin (as most do I'm sure). She used to not be able to stay outside or be in the grass for very long before becoming red and getting skin irritations. We especially had problems with her eyes and ears. With her beat red eyes, she would scratch her ears and shake her head constantly. Since having her on OxyNu, she can lay out in the beautiful weather and enjoy being a dog! I've also noticed she does not shed as much as she did before having her on it, which makes her daddy and I very happy!!! 🙂
Jenna Gaspar
17yr old Shiloh Loves OxyNu
One day we came home and Shiloh was stuck in the doggie door. She was just sitting their half in and half out because she fell while trying to go outside. When we saw this we knew we had to do something. We found out about OxyNu at the Jefferson Pet Fest and decided to look it up and try it out. We bought it and just like they said within two weeks we were seeing results.
She is now able to go in and out of the doggie door with little to no trouble. She is also beginning to become more hyper running and jumping when we get home. She's 17 years old and we were not expecting it to work so well. But she has been on it now for about 6 months (since nov. 2014) and we will continue to purchase it to make her move comfortably. She smiles more and seems to be happier not too!
Shiloh stuck in the doggie door
Haley Hebert
Lily's progress – stay tuned!
We started using oxynu 4/10/15 on Lily.. She has been suffering from grass allergies for about 5 yrs. I would take her to the vet for allergy shots approx every 1.5 – 2 months. She would fight getting the shots. She hated them. So now I am going to try oxynu and I HOPE I see a difference.
Stay Tuned!
Christina Hernandez
Duke Itches No More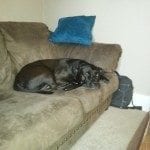 Duke was constantly itching and blistering his skin because of how much he would gnaw at it. Instinctively, I assumed it was flees. HOWEVER, I could not find a flee anywhere! I spent hundreds of dollars on frontline and advantage, but he didn't have flees so those medications weren't really working. I tried OxyNu via a friends advice. Turns out Duke had allergies from his food and other things which was causing him to itch and chafe so bad. I used the Allergy Relief OxyNu and Duke literally stopped itching immediately! I no longer buy frontline and advantage due to the OxyNu working so well. I love this product and would recommend it to any pet owner!
Jet Riggs
Dixie's Allergy Relief
This is Dixie. She is an 11year old Boston terrier and chihuahua mix. She's always had severe allergies. It gets so bad she makes sores on her back from scratching on the bed railing and constantly rolls around on the floor. The last 2 years she has had trouble jumping into bed also. I decided to try OxyNu Allergy Relief. I'm always a skeptical person but I have to say this stuff really works. It helps tremendously with her itching and it even helps her joints so she's able to jump into bed. Whatever my baby needs, my baby gets!
Angie Boudreaux
Thicker, softer fur!
At my rescue beagle's first vet visit the doctor let me know her fur was unusually thin. OxyNu combined with a better quality kibble has helped Maggie's fur grow in thick and super soft. Now, she gets daily compliments for having a super smooth and shiny coat.
Cheryn Robles
Pork Chop
After Only 7 days on OxyNu, our dog Pork Chop is feeling great and the redness on his belly has been noticeably reduced as well as the irritation. We cannot wait to see what a full month will do! Thank you so much for OxyNu!
Catahoula's Love OxyNu
I tried the Allergy Relief supplement with my two large Catahoulas who were both having trouble with skin allergies. My boy was getting dry spots where his hair was falling out all over his body and my girl was just plain itchy. In less than 1 week on Oxynu, both of their issues cleared up. Completely. And they seem to really enjoy breakfast more when it's mixed in with their food and a little water! It's been wonderful and I recommend this product to everyone!
Heather Grossie
A Big Difference!!!
My white boxer's allergies are much much MUCH better!!!! I went from giving her a cleaning solution twice a day and also some medicated drops twice a day and Benadryl about once a week to only giving her the medicated drops once a day as needed. A BIG DIFFERENCE. I will definitely be ordering her some more in the near future!
Jenna Gaspar
Foxy Roxy
My doggie Foxy Roxy had a bad stroke on Halloween night, Well…. I'm happy to say that she's made about a 95% recovery! I tried her on this OxyNu mineral stuff that my friend recommended, and I truly believe it helped her in her recovery. She is climbing stairs, jumping up in my bed, her head is almost straight, and she is even playing with my other pup Totsie sometimes. Thanks OxyNu!!!
Kim Casey
Roscoe and Charlie
My dogs have been suffering severely from their allergies for years with no avail. We've changed food numerous times, treated the yard, and done rounds of antibiotics and steroids but no change. After JUST TWO WEEKS on OxyNu there has been a dramatic difference in the skin of both of my dogs and I have YALL to thank for it. Best money I ever spent and biggest difference I've seen by far!!!! Thank you so much!!
Bridget Untereiner
Briskets Transformation
Here are pictures of Brisket's progress. Her side looks amazing since we started her on the OxyNu Minerals. A lady even commented on how great her coat looked the other day, we definitely told her about your product. We will be ordering more soon!!
Megan Domilise
14 and still looks young
Buddy turned 14 at the end of August and has been using Oxynu for over 6 months now. He has renewed energy and is more active than he has been in the past – people are still amazed he is as old as he is! We just sprinkle Oxynu on his food in the morning, wet it just a little with water and he digs in – Thank you Oxynu!
Michelle Eppley
Ali the Boxer
Ali suffered from severe skin problems.  He had hairless black spots on his sides. We went to the vet countless times to try and figure out what was wrong with him but the vet never had a diagnosis. We took a chance and tried OxyNu. After just 16 days on the minerals Ali's spots started clearing up! The hair started to grow back in the sports as well. The top picture is before, and the bottom is after!
If your dog is suffering from a similar skin, coat, or allergy issue, try this product- you won't regret it!
Marty the Lab
I rescued Marty from the Kmart parking lot in August 2008. Since I have had him we have battled with skin and coat issues. We were at the vet at least once a month with a skin and/or ear infection. We were finally able to somewhat control it with once a week medicated baths and allergy food. I started Marty on the Oxynu in March of this year. Since then we are down to a medicated bath every 6 weeks ( for now just as a precaution) and he has not had an ear infection since he has been on OxyNu!!
Tesha Davis
Blu the Maltipoo
Blu was a shelter dog with many small health problems and severe allergy symptoms. After just 3 weeks on OxyNu her sneezing, itchy eyes, and paw-liking stopped, and she can finally live her life normally with out pesky allergy symptoms! I highly recommend the product! These minerals are a great natural alternative to synthetic medications, etc. See the before and after picture! Her eyes cleared up and she no longer itches them all the time! Not to mention her coat came in way thicker. Far less eye infections as well!
Leanne Poirer
Alli
We have a 14-year old Pug that loves life almost as much as we love her. OxyNu has kept her healthy, active, and as sassy as ever for one year now. We couldn't be happier with her response to OxyNu and will certainly start our next "addition to the family" as a puppy with this great product!
Catrina Lanza
GREAT PRODUCT-GREAT RESULTS-GREAT SERVICE
Jack is a 9 year old, 90 lb., Lab-mix. He's suffered from neuropathy for the past four years. We started supplementing Oxynu four months ago. The results are impressive. It it quite obvious that his comfort level is much better. The bounce in his step has returned and his mobilty has greatly improved. We are very happy to have found Oxynu.
Allen Bixby
Ruger
Ruger is a 14 year old German Pointer. She weighs almost 50 pounds and has suffered minor health problems. Her spine has mended together in some areas, and as a result, she had lost strength in her back. Her owners knew Ruger needed something, and put her on Rimadyl for her weakening back legs, spine and back pain. Ruger did not seem herself again, and on Rimadyl, her symptoms did not fully improve. Her owners stopped the medication, and gave OxyNu a try. Now Ruger's family says she is "Getting around like she had been while taking the medication."
After taking OxyNu Canine for 2 weeks, Ruger's owner reported that "She is able to climb up and down steps well," and is moving around the way she did in her younger years. She continues to maintain her liveliness and was provided a second month supply of OxyNu Canine at the request of her owner.
Roxie
Roxie is a 7 year old female Poodle/ Chihuahua/ Maltese mix. As Roxie got older, her owners saw a change in their little girl. She began to move slower and experience joint pain in her hips and back. Knowing she was in pain, Roxie's owners searched for an all natural supplement to fight these symptoms.
Although the Vet offered medication, they knew there must be a better way to treat the problem, rather than mask the symptom. When they came across OxyNu, they knew they had found what their dog needed.
Now, Roxie is doing well and is not on any medication. Her owners started her on OxyNu Minerals, and in just two weeks they saw Roxie behave the way she always used to. "She is having noticeably less pain in her hind hips and joints," Roxie's family reports. Roxie is now playing, jumping, and walking without pain.
Roux
Roux is a 13 year old Chocolate Labrador Retriever who enjoys duck hunting and playing with her family. As she got older, Roux experienced aching joints, and had trouble getting into cars, up stairs, and onto the couch. As a result, her vet put her on 100 mg of Rimadyl a day and eventually on Glycoflex as well. Her owners did not like having Roux on so much medication, and sought out a healthier, more natural alternative treatment for the problem, not just the symptoms.
Roux began OxyNu, and after two weeks, her liveliness came back to her. She was able to get in and out of the truck without assistance, and after 30 days, she began to put back on the weight she lost over the years.
Her owners tracked her progress over the course of several months.
"By the end of March, after 30 days of treatment, Roux was able to go up and down the stairs and jump into the truck."
In April, Roux was not eating all of her food at one time but still finished each meal. She appears to be gaining healthy weight. She is running around playing in the yard and looks happy. At the beginning of the month the owner called Roux's Vet to ask how long the steroid shot that she received in February would last. Surprisingly, the Vet reported that the steroid shot that she received back in February, only lasted for 3 days.
In May, Roux continued to improve and continued running and playing around the yard. She seems happy and is getting around as she did when she was a young adult. At this time she is still able to climb the stairs at home.
At the end of June, Roux's owner noticed that she was a little stiff. This did not affect any of her activities such as going up and down the stairs. Glycoflex was given for 2 days to help with her stiffness.
Roux has been on OxyNu Canine for almost 5 months now. She continues to manage her weight well, and at 13 1/2 years of age is able to get around much better than when she started the trial.
She has not been to the Vet since February of 2012 and is still able to climb up and down the stairs at home and playing in the yard.
On July 27, Roux's owners had a pool party and Roux was up and running around, excited about all of the activity.
On July 28, Roux's owners noticed that she was slow moving and had trouble getting up after sleeping.That day only, Roux was given 3 Glycoflex as she had been prescribed before.
Roux has not received any Glycoflex in August. The only supplement that she takes is OxyNu Canine. She is happy, playful, and able to climb up and down the stairs.
Roux continues to maintain her liveliness as previously mentioned, "although she is fast approaching the age of 14."
Roux is now almost 15 years old and is still doing well.